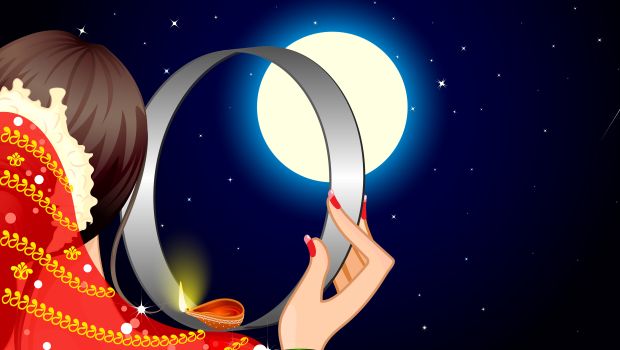 Karva Chauth, the festival of married women. This one-day festival is mainly observed in Indian states of Haryana, Himachal Pradesh, Madhya Pradesh, Punjab, Rajasthan, and parts of Uttar Pradesh.
'Karva' means earthen pots used to store wheat and 'chauth' means the fourth day. Since this day falls on the fourth day of Krishna Paksha in the Hindu month Kartik hence the name 'Karwa Chauth"
 According to Mahabharata's Vana Parva when Savitri begged the god of death, Lord Yama, to spare her husband's soul. Her plead was so strong that Yama couldn't refuse it and thus breathed life back into her husband's body.To celebrate the love of a woman for her husband, Karva Chauth is celebrated.
Another story from Mahabharata tells that, the Pandavas when Arjuna went to the Nilgiris to pray and meditate but did not return for several days. This scared Draupadi. She immediately went to Krishna for help. Krishna advised her to fast for Arjuna's well-being. He said this because he had seen goddess Parvati did the same for Shiva's safety. Draupadi immediately resorted to fast, observing all its rituals carefully and soon Arjuna returned home.
Since then, a woman fasts for her husband's wellbeing on Karva Chauth.
Why do women look at their husband through a sieve?
Women break their day-long fast at the end of the day by first looking at the moon through a sieve and then immediately looking at their husband. This ritual is observed because, on this day, the moon is believed to represent of Lord Shiva and  Lord Ganesha. Both, Lord Shiva and Ganesha are very revered. Since women consider their husband of the highest regard. Hence they look at the moon.